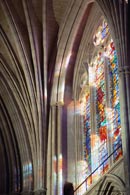 GCM is on it's way to being a multi-cultural church.
though in its genisis it is already laying the foundation for great exploits in GOD.
In 1997 Elder r.d.Taylor was unctioned by God to move his family to virginia and there he would start a ministry.
though many thought this was unwise to leave the familiar and venture into the unknown yet God would prove himself as he always did.
Not only did his restore the blessings we left behind, he is preparing us for the next level of ministry to do a quick work for the Lord.
already two websites have establishes an internet presence.
whats next?
just you wait and see.